Please note that the following information is related to contractor's license  bonds. If you are a contractor seeking information on obtaining contract surety bid and performance bonds, please visit our contract bond page.
What Is a North Carolina Contractor's License Bond?
In North Carolina, contractor's bonds have a state mandated along with city mandated standards. Depending on your trade and the city you work in as a contractor, there are local codes and statues governing contractor's license bond requirements. Customarily, each job requires contractor's license bonds for certain contractors to be held prior to undertaking construction services. The bond generally ensures that the contractor will comply with all required codes and laws. The State of North Carolina, or another local agency, will be named as the oblige on the bond-but a contractor's license bond must be obtained from an insurance company licensed to write surety bonds in North Carolina. The surety company must be qualified and up to date with all codes and laws. If the contractor fails to meet these standards, the bond pays their liability.
Obtaining Contractor's License Bonds as per Requirements.
North Carolina requires contractor's license bonds for the certain trades state wide, and specific requirements in Greensboro and Winston-Salem. Since Colonial is the insurance company, you can easily obtain a bond customized to your location's requirements. Below are a few examples of required county bonds and their amounts.
Statewide
Electrical Contractors –required  to hold a Statement of Bonding Ability of $50,000.
Landscape Contractors –required  to hold Landscape Contractors' Licensing Surety Compliance Bond of $130,000.
Greensboro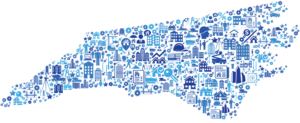 Winston-Salem
 What is the process to obtain the bond?
Colonial offers one of the fastest ways to obtain a contractor's license bond.  We are the insurance company — which means no agent, no broker, and no middleman. There is no turnaround time to obtain your bond. The steps are simple- get a free quote online, fill out your information, answer our underwriting questions, and enter your payment method. Your bond will be available in a PDF or original form, and always accessible to you online. It's that simple!
What Do Contractor's License Bonds Cost?
Contractor's license bonds are reasonably priced and easy to obtain — so that you can run your business.  You may notice that with other insurance agents and middlemen companies, your premium rate will fluctuate and include additional hidden fees and costs. Not at Colonial. We offer the lowest flat rate of any direct and digital insurance company for each contractor's license bond.
Does it matter where I get my bond?
It is important to understand how surety bonds work, and who is the insurance company issuing your bonds. It is easy to run your business when you deal direct with a quality insurance company licensed in North Carolina to write surety bonds. Colonial is an A (Excellent) rated insurance company by A.M. Best, that has been incorporated since 1930. We are Treasury listed, and licensed and admitted in all U.S. states and territories.